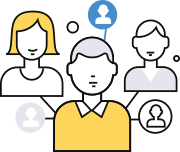 Every website usually has a section called 'Why us?'. It's a very good question and one that potential clients probably want an answer to.
It is difficult to provide this information while also resisting the the urge to oversell. We hope that you will take a look through the content on our website and make up your own minds.
As for the obligatory 'why us?' section, please have a read below for our modest overview. We have tried to be as objective as possible.
We are experts in translation and language services. Our management team comprises a combined 60 years' experience. We have been providing interpreting and translation services to both the private and public sector and we think this kind of experience gives us a well rounded sensitivity to the needs of our customers.
We are proud to be an ISO 9001:2015 and EN 17100:2015 certified company. So much of what we do can be very sensitive and demands the highest standards of accuracy and precision.
We have never seen what we do as only a 'business transaction'. Instead, we work with our customers in a collaborative manner to ensure the best cost-effective and successful outcomes.
Our credo is:
Professionalism
Productivity
Experience
Expertise
Reliability
Value
You can be sure that all your requirements will be met by Translation.ie. As a solution driven language service provider, we are the perfect partner for the following services: