Being GLOBAL means acting LOCAL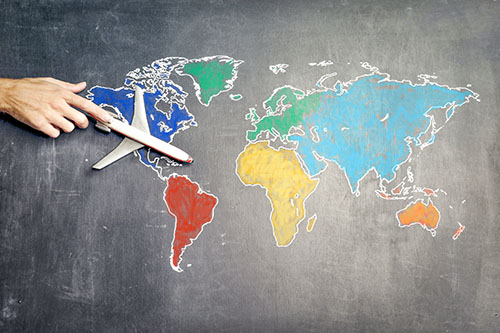 In the world of multi-national business, producing global-ready content is undoubtedly a competitive advantage. Internationalisation and Localisation services are closely linked. Localisation has long been a cornerstone of effective translation. While translation is is the process of accurately conveying text from a source language into a target language, localisation goes the that crucial step further.
Localisation is a special service consisting of equal-parts translation and consultation. Translation alone will not make allowance for the nuance of cultural and target group differences from one market to the next. Here, using highly trained native speakers, we are better able to evaluate and make direct recommendations to improve the receptivity to your product, service or content.
Localisation service helps companies through not only language barriers but across cultural divides. We help businesses to truly 'speak' to a global audience, not just at them. Localisation is the key to successful marketing in today's global economy.
We help our clients adapt products, services and content for local markets. What works in one part of the world does not automatically work somewhere else. This is why localisation is so important for business and service providers.
Localisation creates the User Experience you want
It is tech-fueled world. It is the reach and accessibility of technology that allows your business to move across borders. This is why it becomes crucially important that your interaction with your customers in new markets is a quality experience. At Translation.ie we work with many tech-enabled companies who are moving into new markets. We help them adapt their software and interfaces to ensure a seamless interaction with new customers, without needing engineering changes. We are WMPL compatible which simply means we can adapt and automate many of the processes required.
These are some typical examples of Localisation projects:
International Marketing Consulting
Creative brief & concept development for local area digital and advertising agencies
Marketing messaging, scripts, taglines and body copy
Image & Visual recommendations
Website creation & automation
Art layout considerations & recommendations
Multilingual Search Engine Optimization (MSEO)
We are pleased to offer localisation services for any of your needs:
High-quality localisation will provide you with not only translated but culturally adapted content for your product or service. Translation.ie offers you the competitive advantage of native-speaking translators in over 150 languages and lesser-known dialects. They draw on their cultural experience to ensure you reach into each new local market and speak to them in a way that resonates within their cultural environment.
Internationalisation and Localisation Services
Internationalisation involves preparing your content and software applications for a global market so that they can be adapted to various languages and regions without the need for engineering changes. Localisation is the process of adapting your internationalised content for a specific region or language by adding locale-specific components while, of course, translating the text.
For more information on our Localisation Solutions or to find a tailored solution for your business needs just call us today on + 353 1 652 0760 or email us at solutions@translation.ie for a free quote!