Your business can go global, no matter how big your business is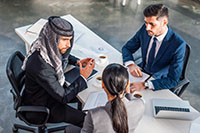 Going global means your business will need to speak many different languages. The global business market has expanded exponentially over the last decade and it shows no sign of slowing. Even smaller businesses are able to take advantage of global reach to service customers across the world. And in many languages.
These are some of the everyday situations where translation.ie is able to help business grow internationally.
Business meetings 

International trade conventions

HR consultations / Staff training

Negotiations & Partnerships
We translate and interpret in all of the languages you'd expect like German, Chinese, Italian, Russian, Japanese & Korean but we also provide service in less common languages like Thai or Indonesian. These are areas of the world where more and more trade is emerging.
When it comes to business, it's more than just 'words'
Business interpretation requires some savvy and contextual knowledge. Our interpreters are selected based on their business background and experience, not just for their ability to speak a language. Business communication requires a careful sense of emotional nuance and tone. It is not enough to simply translate what a speaker is saying. The interpreter must also 'read the room' as the saying goes. 
Industry knowledge is a plus!
Whether it be food production, agriculture, pharmaceutical, engineering or consulting, it is best that the interpreter has some level of context. It is important that they possess a working knowledge of the subject matter. This is what we set to achieve in the way we recruit, train and prepare our interpreters before every business project.