Interpreting in Real Time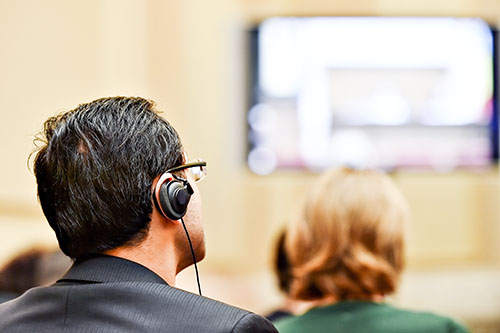 Simultaneous Interpreting is most commonly used for conferences, corporate meetings, legal proceedings and live broadcasts. The simultaneous interpreter translates the speech or message simultaneously from the source language to the target language.
Simultaneous interpreting can be carried out using a number of methods. Depending on the nature of the assignment, the number of participants and your budget for the event, you can avail of our simultaneous interpreters in one of the following types:
Conference Interpreting (Booth, Microphones, and Earphones)
Conference Interpreting is used mostly for formal conferences and meetings where the participants are from different countries or speak different languages, e.g. Conferences, International Meetings, Company Annual General Meetings, Internal Company Conferences, etc. The Conference Interpreting System consists of at least one soundproof booth for each language, microphones for the interpreters, and earphones for the audience. It is the most sophisticated form of interpretation and the interpreters always work in pairs for each language.
Audio Interpreting (Microphones, and Earphones)
Audio Interpreting can be used for smaller scale or less formal conferences and meetings, as well as for foreign audits, business meetings and guided tours. Audio Interpreting Equipment consists of one microphone for the interpreter and up to twenty sets of earphones for the participants. The interpreter usually sits a short distance away from the audience and translates the speech or message to the audience simultaneously through the microphone. The interpreters can work either in pairs or individually. Mobility, flexibility and cost-friendliness are the main advantages of using Audio Interpreting Equipment.
Whispering Interpreting
Whispering interpretation can be carried out with or without any equipment, depending on the number of participants involved. The interpreter normally sits beside or among the participants and renders the translations of the content to the listeners simultaneously. Whispering interpreting is best used for legal proceedings, small business meetings, business liaison, and any other situation where there are a small number of participants.
Simultaneous Interpreting Types
 Interpreting Service Type

Equipment
Required
No. of
Interpreters
Environment
Suitable For
No. of
Participants
Cost
Conference
Equipment
System

Yes

 At least 2

Very
Formal
International conference,
Formal business meetings,
Corporate annual meetings, etc.

> 20

High

Audio
Interpreting

Yes

 At least 1

Formal /
Casual
Business meetings,
Foreign auditing,
Tour Guides, etc.

< 20

Moderate

Whispering
Interpreting

Yes

 At least 1

Formal /
Casual
Legal proceedings.
Business meetings,
Business liaison, etc.

< 20

Low
If you are planning a conference and may require any kind of conference interpreting it is a good idea to get in touch with us early to help you specify the event requirements and to make sure we can secure the best interpreters for you. We can also supply equipment and sound technicians for your event if you don't have equipment in place. You can always talk to us about some lower cost solutions and alternative technologies to ensure your event is successful for all your participants. We are always available to talk to you so please feel free to contact us or you can email the interpreting manager to explore your options fully.
To make an enquiry call us now on 01 652 0760 or email interpretingmanager@translation.ie