Language Review Services

Since 2001, Translation.ie has helped a wide variety of businesses to deal with both their translation and localisation needs in a way that best reflects each business' own unique voice. We recognise the importance of having a standardised brand tone that belies reliability across the board. This is a key ingredient for a successful venture into the global and multilingual marketplace.
Your knowledgeable business approach attempting to reach a more broad audience has brought you to work with various language service providers over time that have best matched the level of service required. However, you now wish to ensure that the differently localised pieces of the global jigsaw are harmonised and that, in the long run, your content will have a consistent flow. That is where translation.ie can help.
Translation.ie is pleased offer a comprehensive solution to ensure the success of this harmonisation process and thus provide the standardised quality assurance so important to improve the effectiveness your localised content. Our expertly qualified, native speaking translators can provide a full review of your current and future localised content assuring that your desired tone and message remains intact throughout.
As an independent review services provider, translation.ie review your translated and localised content and will ensure: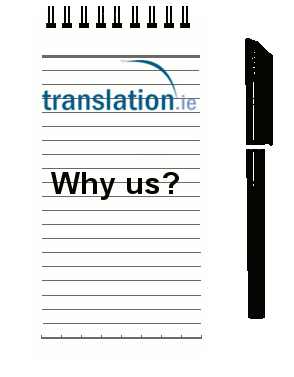 Total translation accuracy
Terminology consistency
Adherence to client-specific instructions.
The final translation reflects the appropriate style, register and message of the original content.
A constructive language review strategy.
Performance reports

From start to finish our highly skilled translators will assess all content to these precise specifications to make sure that your message is both loud and clear. Once the constructive language review has been put in place by our team, performance reports will be run regularly to appropriately analyse and monitor the trends across languages. This enables you to stay abreast of how your multilingual marketing strategy is being executed and putting the control firmly into your hands as to where to go next. Whether you are looking for a large scale review strategy programme or just an ad-hoc review project, Translation.ie has the team, the expertise and ability to tailor our language review techniques to meet your individual needs to ensure the highest quality service with a quick turnaround time; which is imperative in the competitive, fast-paced market we live in today.
To learn more about our Language Review Services, or to request a no obligation quotation please

contact us

.